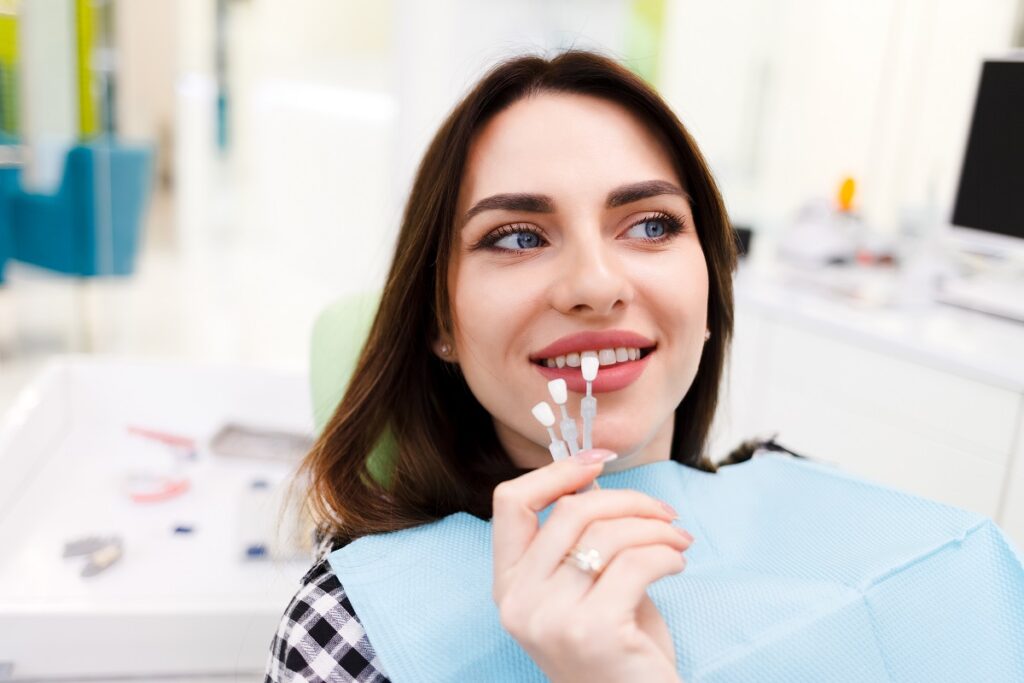 At The Center for Dental Excellence Dr. Gordon Bell frequently enhances patients' smiles using porcelain veneers. These beautiful restorations can conceal a single imperfect tooth or make over an entire smile. Because veneers are so versatile and effective, Dr. Bell receives many queries from individuals considering treatment. Here, he answers the most frequently asked questions about veneers.
How do veneers work?
Veneers are thin pieces of porcelain bonded to the front surface of the teeth to hide minor imperfections that show when smiling, such as slight chips, cracks, stains, uneven edges or small spaces in between the teeth.
Am I a good candidate for veneers?
To qualify for treatment with veneers, you should have healthy teeth and gums. If you have tooth decay, gum disease or orthodontic problems, you must address those issues before undergoing treatment with veneers.
You should not suffer from nighttime teeth grinding or clenching, as these behaviors put too much pressure on the veneers and potentially damage them. If you know you grind or clench at night, ask Dr. Bell about wearing a mouth guard to protect your teeth and veneers.
How many veneers do I need?
Dr. Bell can help determine how many veneers you need, depending on the dental issues you want to address. If you have a single stained or chipped tooth, one veneer may suffice; on the other hand, if you wish to completely transform your smile, you may require a set of veneers for all of your front teeth.
Does getting porcelain veneers hurt?
The process of getting porcelain veneers should not be painful. Dr. Bell will numb the affected area of your mouth prior to preparing your teeth and placing the veneers. If you have multiple veneers placed, you may experience mild soreness in your gums afterward; over-the-counter pain relievers can help reduce discomfort.
Can I continue to eat my favorite foods with veneers?
Right after getting veneers, Dr. Bell recommends eating mostly soft foods for a few days. Once you have adjusted to your new veneers, you can enjoy your favorite foods as long as you avoid particularly hard or crunchy candy and foods; this includes foods like hard nuts, popcorn kernels and ice.
How long will my veneers last?
Veneers usually last five to 10 years with the proper care and maintenance. Some of Dr. Bell's patients are able to enjoy their veneers even longer. The best way to extend the life of your veneers is to practice good oral hygiene habits and see Dr. Bell regularly for check-ups.
If you are interested in talking to Dr. Bell about your porcelain veneer options, please request a consultation at The Center for Dental Excellence. Call or email us today.