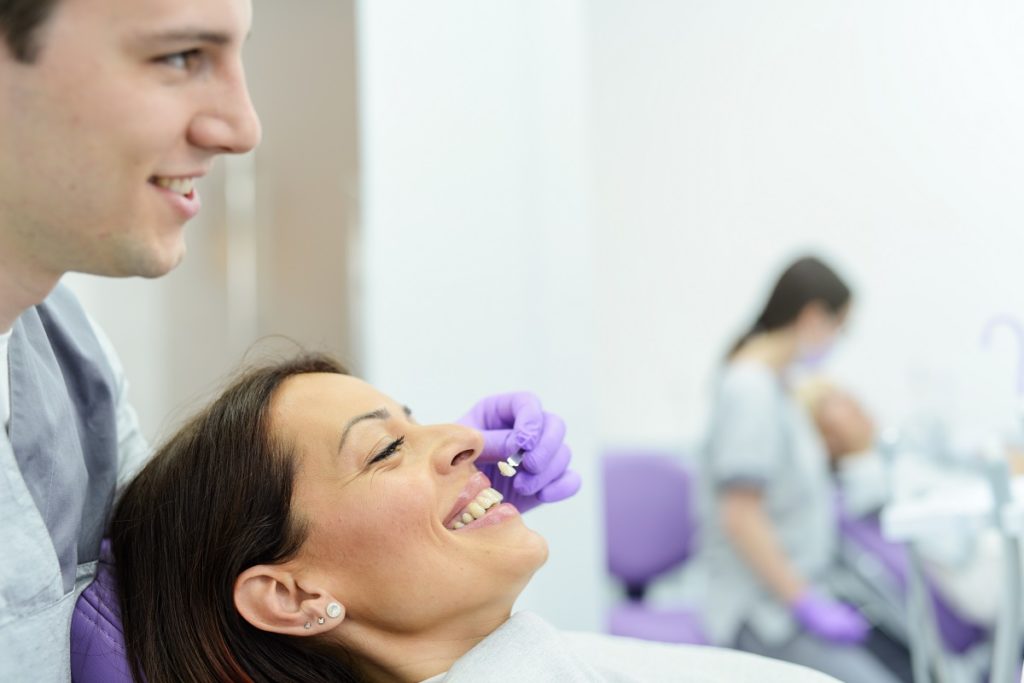 A warm, genuine smile conveys so much about your personality. When you smile at someone else, that person can learn a lot about your attitude, confidence and happiness.
It is important to take care of your smile so you feel good about yourself and make other people feel good around you. If cosmetic issues cause you to feel embarrassed or self-conscious of your smile, consider addressing these issues with Dr. Gordon Bell in a smile makeover.
A smile makeover combines at least two cosmetic dentistry services to transform an imperfect smile into a dazzling one. Every smile makeover is completely customized to the unique needs of the patient. Your smile makeover will include procedures and treatments selected by you and Dr. Bell to give you the best results.
Below are some of the most popular smile makeover options.
Porcelain Veneers
Porcelain veneers are a mainstay of many smile makeovers. Dr. Bell places these ultra-thin pieces of porcelain over imperfect teeth to improve their appearance. Depending on your specific dental needs, you may benefit from a single veneer placed over an irregular tooth or a set of veneers placed over all of your front teeth that show when you smile.
Teeth Whitening
Teeth whitening is a quick way to brighten a dull or discolored smile. Dr. Bell can perform in-office Zoom! whitening treatment and/or provide custom take-home trays and bleaching gel.
Dental Bonding
Dental bonding is another quick treatment that covers up superficial flaws affecting the teeth. Dr. Bell applies a composite resin material to the affected tooth or teeth and reshapes it to cover up chips, cracks or stains, or to hide spaces in between the teeth.
Invisalign
The Invisalign system uses a series of clear, removable aligners to improve the position or alignment of the teeth. This popular technology makes it possible to straighten crooked or crowded teeth without wearing conspicuous metal braces.
Tooth-Colored Fillings
Many of today's fillings are made from tooth-colored materials and blend in seamlessly with the natural tooth structure. By replacing old metal fillings with tooth-colored fillings, Dr. Bell can leave your smile looking natural and uniform.
Gum Reshaping
Gum reshaping improves the appearance of prominent, uneven or asymmetrical gum tissue that distracts from the beauty of a smile. Dr. Bell carefully sculpts gum tissue to improve the look of a "gummy smile" or an uneven gum line.
To discuss your smile makeover options with Dr. Bell and determine the best way to address your unique goals, please request a consultation with him today.