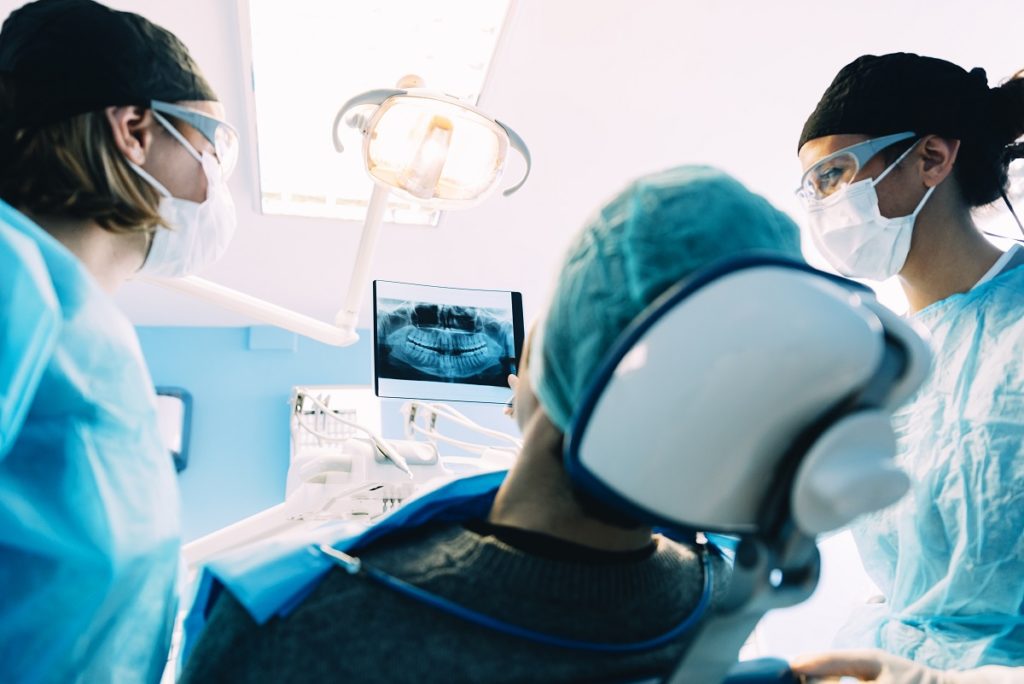 A full mouth reconstruction is performed to help a patient suffering from several dental problems simultaneously — such as tooth decay, tooth loss and/or dental injuries. It is a lengthy process that combines multiple restorative (and sometimes cosmetic) procedures to restore optimal dental health, function and appearance.
If you have tooth decay, severely worn teeth, missing teeth or otherwise damaged teeth, you could be eligible for a full mouth reconstruction. Read on as Dr. Gordon Bell of The Center for Dental Excellence outlines the process of getting a full mouth reconstruction.
Determining the Scope of the Problem(s)
The first step in a full mouth reconstruction is to determine the extent of your dental problems. Dr. Bell will perform a comprehensive examination, looking at the condition of your teeth, gums and jaw. He will make note of problems including:
tooth decay and cavities
extremely worn teeth
missing teeth
old dental restorations
loose teeth
gum disease
problems with the bite and the temporomandibular joint (TMJ)
the spacing and alignment of the teeth
broken, cracked or chipped teeth
Dr. Bell will also take X-rays to get a complete picture of what is happening between your teeth and below the gumline. He will inquire about your medical history and whether you have any health conditions that could affect how he proceeds with your care.
Outlining the Treatment Plan
Once Dr. Bell has a comprehensive understanding of your dental problems, he will suggest dental treatments and procedures to fix each of the problems he has identified in your mouth. Dr. Bell will lay out a treatment plan, step by step, starting by addressing the most pressing issues. He may also recommend optional cosmetic procedures to complement your restorative work (i.e., teeth whitening, dental bonding).
Every full mouth reconstruction is unique. Your personalized treatment suggestions may include placing crowns, bridges, implants or fillings; it could also entail orthodontic treatment, periodontal (gum) care or surgery to fix jaw problems. Dr. Bell will explain the benefits and risks of each option so you can make informed decisions about your care.
Carrying Out Your Customized Treatment Plan
Once you and Dr. Bell have decided how to proceed, he will begin the first phase of your treatment. Many full mouth reconstructions involve multiple phases and several office visits. It may take a few months or upwards of a year before you complete treatment. You are encouraged to ask questions and bring up any concerns throughout the process, so that you fully understand your treatment.
Along the way, Dr. Bell will give you information about maintaining your new smile and your dental health. Following his instructions and practicing good oral hygiene habits is essential for enjoying lasting results from full mouth reconstruction.
Book a Consultation with Dr. Bell
To discuss your personal dental concerns with Dr. Bell and learn more about your treatment options, please schedule an appointment at The Center for Dental Excellence by calling (888) 906-2343 today.