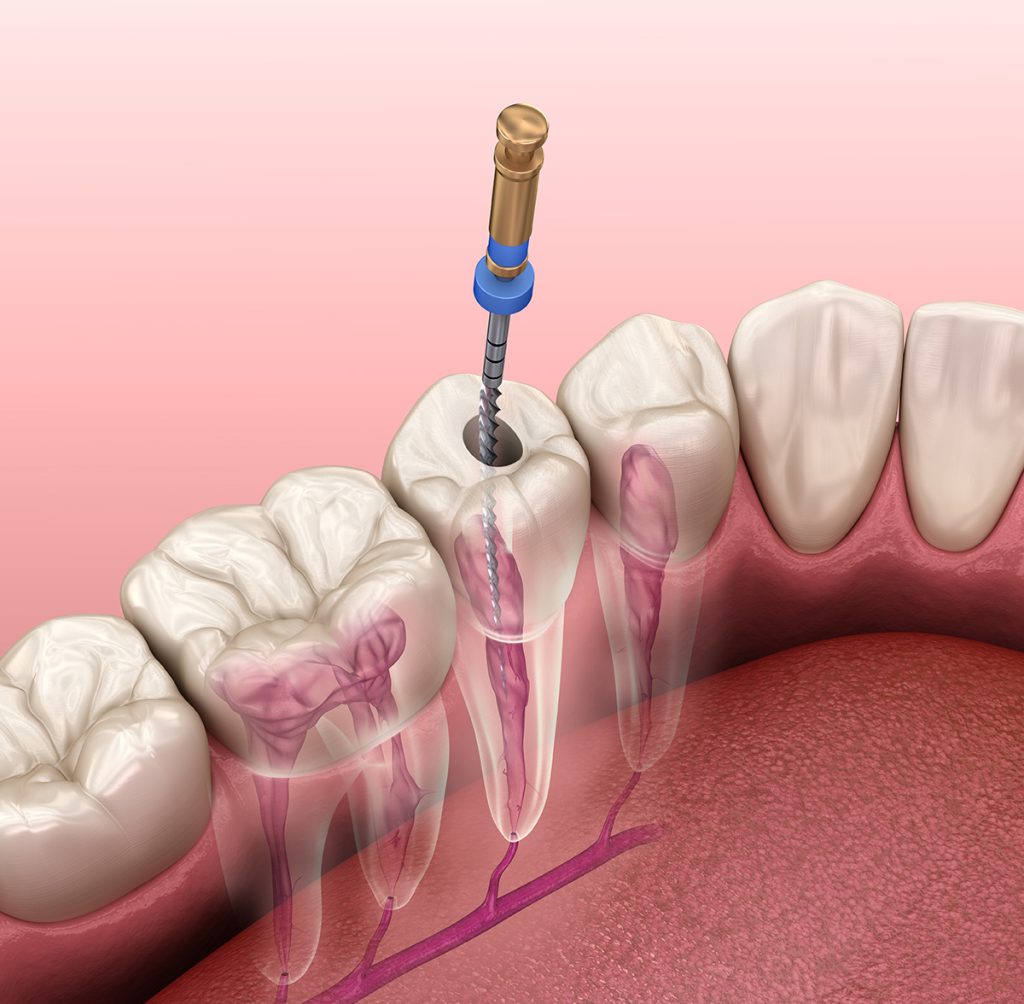 Root canal therapy is often necessary to remove bacteria from an infected tooth root and save a natural tooth. The treatment protects the vulnerable tooth structure from reinfection and involves removing the infected or inflamed pulp and surrounding tissue from the inside of the tooth. The remaining tooth structure is cleaned and disinfected, filled and sealed. Dr. Gordon Bell at The Center for Dental Excellence can restore oral health with this procedure.
Many people need root canals every year for various reasons, including:
Tooth or mouth pain while chewing or biting foods
Jaw pain caused by a cracked or chipped tooth
Trauma to the mouth or jaw that damages a tooth
These issues may come with hot or cold sensitivities, swollen or tender gums or pimples on the gums. Mouth injuries may not cause visible damage but should still be evaluated to determine if the tooth root was harmed.
Root canal therapy is necessary for infected or inflamed pulp inside the affected tooth because it will cause worsening symptoms and oral health problems. Without treatment, you will eventually require a tooth extraction.
How Does Root Canal Treatment Work?
Our dentist at The Center for Dental Excellence will work to make sure you're comfortable during this quick procedure. Root canal treatment often relieves existing pain, making teeth healthy again. The process focuses on the inside of the tooth (underneath the white enamel and hard layer of yellowish dentin) called the pulp. The tooth pulp is a soft tissue comprised of blood vessels, connective tissues and nerves and helps the tooth grow during early childhood and adolescence. However, the pulp isn't necessary once a tooth is fully matured.
Root canal therapy removes the infected or inflamed pulp and preserves the remaining healthy tooth structure, which is nourished by surrounding tissues.
Depending on your oral health needs, your root canal treatment with Dr. Bell may take one or two visits at our York or Hellam offices.
What Are The Benefits of Root Canal Treatment?
Root canal therapy restores proper chewing abilities and eliminates tooth or jaw pain caused by the infection or inflammation. The procedure gives you normal biting force again and improves the sensations and appearance of the natural tooth. A root canal also prevents further damage to the affected tooth by protecting it from future decay.
Don't ignore tooth or jaw pain. Schedule a dental exam as soon as possible to determine the cause of your discomfort and symptoms. Contact The Center for Dental Excellence in York, Pennsylvania, at (717) 757-4611 or Hellam, Pennsylvania, at (717) 757-4878, or fill out our online contact form.