Traditional Orthodontics
Now serving Hellam & York, PA
Traditional Orthodontics Can Realign and Reinvigorate Your Smile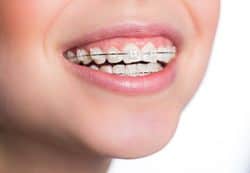 If you are in search of a straighter smile, traditional orthodontics are a time-honored solution. At our Hellam, PA, practice, our orthodontic team can evaluate your candidacy for both traditional orthodontics and alternative systems like Six Month Smiles®. In addition to the many aesthetic advantages straighter teeth can offer, orthodontics can also decrease your risk of certain oral health issues. Contact us today to learn how orthodontics can benefit you.
Orthodontics Overview
Traditional orthodontics involve corrective mechanisms such as braces and retainers to straighten crooked teeth and repair irregular bites. Made up of brackets bonded to the teeth and threaded together with wire, braces apply constant pressure in a particular direction to your teeth. Over a period of several years, this pressure slowly guides the teeth until they reach the desired position and alignment.
Once the treatment outcome is achieved, the braces are removed and you are then typically provided with retainers. The plastic and stainless steel wire fixtures of a retainer ensure that the teeth do not move back to their original positions. Retainers are not permanent and you can easily slip them on and off the teeth. Most patients only need to wear retainers at night to prevent their teeth from shifting.
Benefits Of A Straighter Smile
Braces and retainers not only provide cosmetic advantages, but also help promote overall health. Misalignment can make caring for your teeth more difficult, sometimes leading to greater plaque build-up. This greatly increases the chance of developing gum disease.
An overbite or underbite can cause issues when chewing food, which can impact gastrointestinal health. An overbite or underbite could also initiate or exacerbate the development of temporomandibular joint (TMJ) disorder, causing chronic headaches and pain in the face or neck.
There are numerous emotional benefits that can result from traditional orthodontics. A misaligned jaw or crooked teeth can make patients feel self-conscious about smiling, sometimes even covering their mouth to avoid showing their teeth. After straightening your teeth with braces, you can smile and speak with confidence.
Types of Orthodontics Available in Hellam
When most people think of orthodontics, the first image that often comes to mind is stainless steel braces. While many types of braces are now available, metal braces do remain the most commonly used option. Metal is not only the least expensive material, but it is also the most effective. Metal braces are largely used by children and adolescents, whose mouths and facial structures have not yet finished growing. For serious misalignment issues, our orthodontic team will strongly recommend traditional metal braces. Compared to other types of orthodontic systems, metal braces can treat a wider variety of misalignment issues including:
Teeth of uneven height
Wide-set or gapped teeth
Crowding
Underbites or overbites
Open bite (space remains between the teeth when the mouth is closed)
Cross bite (when the upper and lower jaws do not meet properly)
Although traditional braces are effective, some adults prefer a more discreet treatment option such as Six Month Smiles®. Six Month Smiles® features clear brackets and a tooth-colored wire, and can often achieve comparable results in a shorter treatment period. We can discuss whether you are a good candidate for this option at your consultation with either our Hellam or York orthodontic team.
Contact Us Today
Here at The Center for Dental Excellence, we are committed to meeting your needs with the best service possible. To learn more about how orthodontics can transform your oral health, contact us today and schedule an appointment.