Periodontal Treatment & Care
Now serving Hellam & York, PA
Protect Your Health with Periodontal Treatment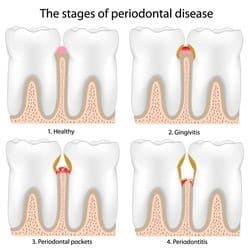 Periodontal disease affects the majority of adults over the age of 30. It can range from a minor inflammation to a more serious infection affecting the soft tissue, bone, and ligaments that support the teeth. Left untreated, it can result in tooth loss. Good oral hygiene and regular dental cleanings can reduce your risk of developing gum disease. Understanding the symptoms and risk factors of this condition can also help you maintain your oral health. Our periodontics specialist can help you understand gum disease and how to avoid it. When necessary, he can provide advanced treatment of periodontal disease at his office serving the greater York, PA, area.
How Oral Health Relates to Overall Health
Health complications resulting from gum disease often extend beyond the mouth. An association between gum disease and heart disease has been demonstrated through several studies. The connection is not definitively clear, but researchers believe that the inflammation caused by gum disease is linked to increased inflammation throughout the body, which increases your risk of heart disease. Other research has suggested that the bacteria that infect the gums may contribute to heart disease as it spreads through blood vessels to other parts of the body.
Further studies have pointed to a connection between gum disease and stroke. In one study analyzing the role of oral infection as a risk factor for stroke, stroke patients were more likely to have an oral infection than those in the control group. While a cause-and-effect relationship has not yet been proven, it has been established that good oral health contributes to good overall health.
Risk Factors
It is important to know if you are at risk for developing periodontal disease. Some risk factors include:
Smoking
Hormonal changes in women (such as pregnancy)
Certain medications that reduce saliva flow
Genetic susceptibility
Poorly controlled diabetes
Gum disease develops when plaque is allowed to build up along and under the gum line. You can keep your teeth and gums healthy with good at-home and professional dental care, including regular check-ups and cleanings.
Symptoms
The most common symptoms of gum disease include:
Chronic bad breath
Red or swollen gums
Tender or bleeding gums
Pain when chewing
Loose teeth
Sensitive teeth
Receding gums
As with any health condition, the sooner it is detected, the easier it is to treat. If you experience any symptoms of gum disease, contact your dentist as soon as possible.
Stages Of Gum Disease
Gum disease occurs when bacteria forms a sticky, colorless plaque on the teeth. Brushing and flossing can remove the plaque, but any remaining traces can harden into tartar. When this happens, a professional teeth cleaning is the best way to remove the tartar. If tartar remains on the teeth for a prolonged period, gum disease can develop. This process occurs in three stages:
Gingivitis
The longer plaque and tartar remain on your teeth, the more harmful they become. Left untreated, they can cause gingivitis, or an inflammation of the gums. During this early stage of periodontal disease, you may notice your gums are red and swollen, and bleed easily. Gingivitis can be easily reversed with a dental cleaning followed by good oral hygiene, including daily brushing and flossing.
Periodontal Pockets
When gingivitis is not treated, it can result in periodontal pockets. The inflammation around the tooth causes the gums to pull away from the teeth, forming spaces or pockets that become infected. The immune system must then fight the bacteria as the plaque spreads and grows below the gum line.
Periodontitis
The toxins created by the bacteria irritate the gums, triggering a chronic inflammatory response. To fight the infection, the body creates good enzymes. The interaction of the bacteria and enzymes results in a breakdown of the bone and connective tissue that holds the teeth in place. As the disease progresses, the pockets deepen and more gum tissue and bone are destroyed. Without this solid support structure, teeth can become loose, and may fall out or require removal.
Periodontal Treatment
The main goal of periodontal treatment is to control and clear up bacteria. We provide comprehensive care including non-surgical periodontal therapy (deep cleaning above and below the gum line). Medications, such as prescription mouthwash and topical or oral antibiotics, can also help.
In cases where gum disease is advanced, surgery can help regenerate healthy gum tissue. Flap surgery involves gently lifting back the gums to remove tartar, then suturing them back in place so the tissue fits snugly around the tooth. Grafts may be recommended to restore any bone and soft tissue that has been lost to gum disease and to help your body heal. Along with any kind of treatment, you should continue to maintain good oral hygiene at home.
Come See Us
Our office features a relaxing atmosphere and we strive to provide each patient with personalized attention and comfortable amenities. To learn more about our periodontal care, schedule an appointment today!