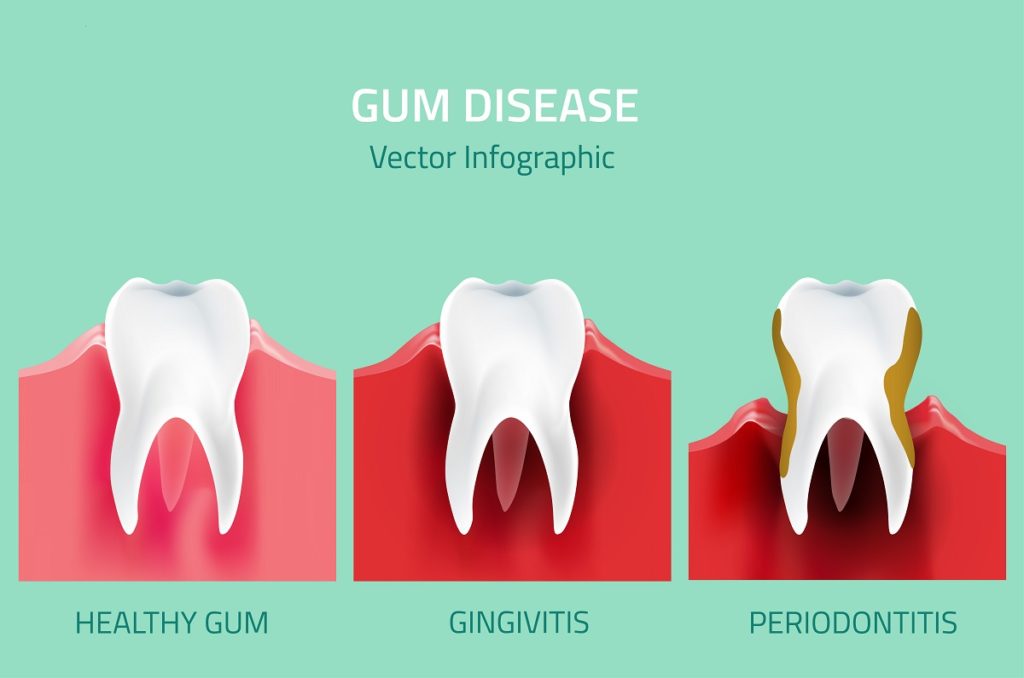 Periodontal (gum) disease is one of the biggest threats to your oral health. It starts when bacteria build up in the mouth and inflame the gum tissue. Left untreated, the inflammation can worsen and gradually destroy the structures holding your teeth in place. Furthermore, research suggests a link to other serious health conditions such as diabetes and heart disease.
But according to Dr. Gordon Bell of The Center for Dental Excellence, a few simple habits and lifestyle changes can go a long way, helping you prevent gum disease and enjoy a lasting, healthy smile.
Brush and Floss Daily
Brushing at least twice a day and flossing at least once a day removes food particles and plaque from your mouth. (During your next dental check-up, ask your hygienist to make sure you are using proper brushing and flossing technique.) After brushing and flossing, you can use an antiseptic mouthwash to help rinse away any remaining food particles.
Eat a Healthy, Balanced Diet
Help keep your gum tissue healthy by eating a balanced diet with foods rich in vitamins and minerals. Limiting consumption of sugary foods is also crucial, as the bacteria that causes gum disease thrives on sugar.
Know Your Individual Risk
Factors that can increase your risk of gum disease include smoking, diabetes and a family history of gum disease. If you know that you are at increased risk of gum disease, talk to your dentist about additional measures to take to avoid problems.
Don't Smoke or Use Tobacco Products
Smoking is one of the leading risk factors for gum disease. Avoid smoking or using tobacco products. If you have a hard time quitting, ask your health care provider for resources.
Manage Stress
Stress can interfere with your immune system's ability to fight off infections. Identify any sources of stress and manage them as best you can with physical exercise, deep breathing exercises, meditation or the help of your doctor.
Schedule Regular Dental Check-ups
Regular check-ups and cleanings are beneficial for several reasons. First, your dental hygienist can remove plaque that your toothbrush and floss cannot remove. Also, your dentist can identify the early signs of gum disease even before it causes noticeable symptoms; early detection makes it easier to treat the problem using simpler and less-invasive means.
To learn more about gum disease or to schedule your next check-up with our team, contact The Center for Dental Excellence. Please contact us at (888) 906-2343 or send us an email today.