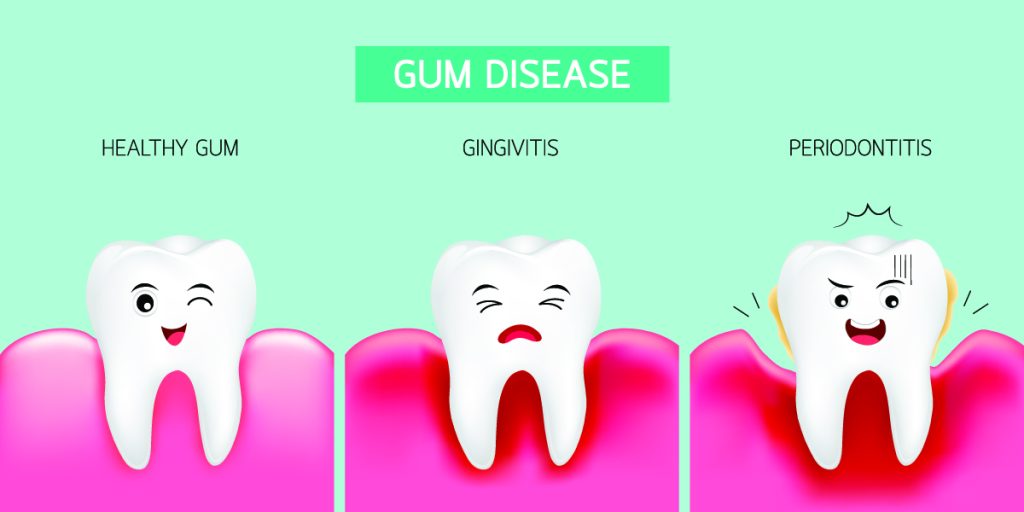 February is gum disease awareness month, and the Center for Dental Excellence wants you and your loved ones to understand the signs of gum disease and its consequences for your oral and overall health. The American Dental Association (ADA) recommends bi-annual dental exams and cleanings, as these visits are crucial to maintaining a healthy mouth. Celebrate gum disease awareness month by scheduling your dental exam at our Hellam or York office.
What is Gum Disease?
Bleeding gums, chronic bad breath and red, swollen gums are often the first indications of early gum disease, which is inflammation caused by bacteria build-up along the gum line. Other symptoms include loose teeth, pus between teeth and gums, sensitive gums and changes to your bite or how your dentures fit in your mouth.
Gum disease occurs in stages, some of which are reversible, while others require deep cleaning treatments, bone grafts or tooth extractions. The condition is connected to several systemic diseases, including diabetes, heart disease, osteoporosis, stroke, cancer, respiratory disease and dementia. However, correlation does not mean causation, and many of these diseases are two-way streets. Treating gum disease and managing health conditions offer mutual benefits.
The three stages of gum disease include:
Gingivitis: The earliest stage of gum disease can be reversed through better dental hygiene at home and regular dental cleanings with our dentist. Dr. Gordon Bell uses special tools to scrape the hardened plaque along the gumline and underneath the gums.
Periodontitis: Stage two of gum disease damages the tissues in your mouth and can degrade your jawbone. The gums pull away from the teeth, forming periodontal pockets that collect and trap food, creating the perfect environment for bacteria to bloom. You'll experience gum recession, loosening teeth and significant swelling. Deep periodontal cleanings are needed to clean the pockets, including scaling and root planing, and your oral health can often be restored without further treatment outside of regular cleanings and better at-home care.
Advanced Periodontitis: The third stage of gum disease causes tooth loss as the jawbone and fibers that support your teeth continue to degrade. The bacteria growing in your gums can enter your bloodstream, creating inflammation in your body and worsening comorbid conditions such as diabetes. Surgical intervention is needed to address advanced periodontitis and remove the infected tissue to avoid further tooth and bone loss.
A gum graft can restore healthy gum tissue by relocating soft tissue from the roof of your mouth to reinforce and rebuild a strong gumline.
How to Prevent Gum Disease
The best way to prevent gum disease is to brush your teeth twice a day for two minutes and floss once daily with floss or a water flosser. Rinse with mouthwash or water after meals and see Dr. Bell twice a year for thorough cleanings and exams. Manage your health conditions to prevent systemic diseases from affecting your oral health, such as controlling blood sugar levels for proper diabetes management. Quit smoking or chewing tobacco to improve your oral health, and tell Dr. Bell how you brush your teeth to make sure you're not using too much pressure and damaging your gums.
Schedule your dental exam with Dr. Bell at the Center for Dental Excellence in York and Hellam today.